While in college, I had the fantastic opportunity to play hockey for my school. I grew up in West Texas and never even played hockey until I was 16, but through some incredibly hard work and luck, I managed to squeeze onto a college hockey team, and I will always be grateful for it. I want to tell you about the first time that I played collegiate hockey. I was a back-up goalie for a less than stellar D-2 hockey team and spent all my game time riding the bench. In this particular game, we were playing a high ranked D-1 team and had very little chance to win. I did my part sitting on the bench and encouraging the team as a very talented group pummeled us. At the end of the second period, we were down 10-2.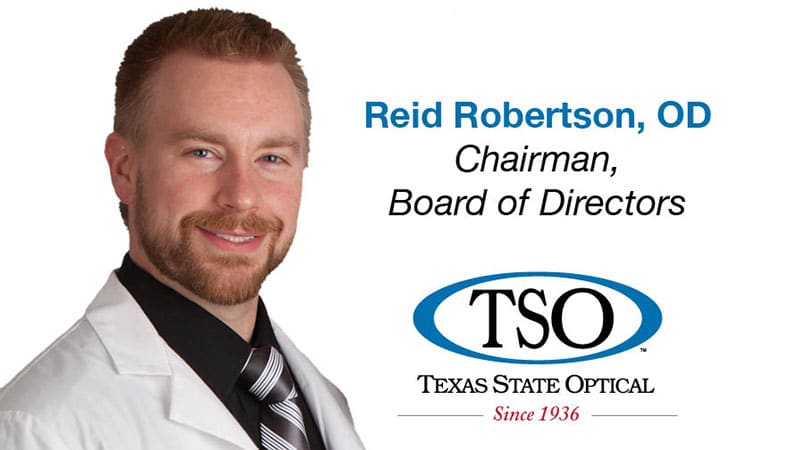 Chairman's CORNER
– Reid Robertson, OD
Enough damage was done at this point that it would be impossible for a back-up goalie to ruin a game more than it already was, so the coach put me in for the third period to give me some experience. While the game no longer mattered, I was still incredibly nervous.
For the first play of the third period, the other team hit the puck down into our zone, and I skated behind the net to stop the puck and get it back to my team. As I stood still on the ice with the puck on my stick, something amazing happened. My skate magically slips out from under me, and I fell flat on my back.
My whole world kind of collapsed in on me, and I could not believe what I had done. I was shocked and felt sick. I had ruined my first shot at ever being the starter. I had embarrassed myself in front of all the fans in the stands, my friends, my team, and my coach. The entire rink seemed to be completely silent. Then I heard a single voice calling from the stands, coming through as clear as if the person was standing next to me. Then words rang through my helmet, "GET OFF YOUR ASS!"
It was a pretty straight forward message. I decided to shake off the embarrassment and knew that my performance could only improve from that point on. So, I got back up and played the best that I could. I held that D-1 team to zero goals in the third period and won a little respect for myself. I fully realize that they had slowed down from killing us in the third period, but it did not matter. I got back up and played my heart out.
Our network started this year extremely strong, but we have been knocked down by something that we could not control. Now it is time for us to get back up and to crush the rest of this year. Be safe as you re-open. Protect yourselves, your staff, and your patients with the proper safety protocols. I encourage everyone to come back to work and to give your patients the care that you know that they need. We will continue to grow from this, and we will always strive to be Texan's first choice in eye care.