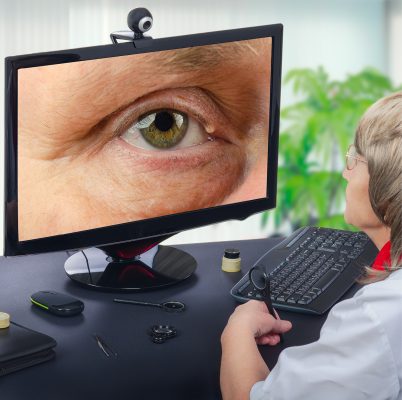 I hope you and your team have had a great holiday season. Now it's time to get back to work. Have you prepared to have your best year yet? Have you set annual, quarterly, monthly goals? A good thing to remember is that we are in the patient care business. We diagnose and prescribe a course of treatment to improve a patient's vision and ocular health. This requires knowledge and skills, but more importantly, it requires sensitivity, compassion and caring. This has been on my mind the last few months as I contemplate our role in the future of eye care.
I have been lucky to be working with Zeiss and their Remote Exam system. We have set up a lane of digital equipment, and a web camera so that I can visit with patients remotely. The equipment includes an auto refractor, auto lensometer, digital phoroptor, and a digital slit lamp. This coupled with beta testing Zeiss EMR and digital fundus photography, allowed me to see patients away from the exam room. I initially started by conducting the exam from a different room in the same office. Also, all the patients were staff and family. Everything went well and feedback from these patients were very positive.
At our TSO Board of directors meeting November 28 in Houston, we demonstrated this by conducting an exam from the meeting. I connected my laptop to a projector and demonstrated the ability to speak with the patient, look at digital fundus photos, pre-recorded slit lamp exam and do a live refraction remotely. We also live streamed a more thorough slit lamp exam with very clear, and quality images and be able to give directions on the placement of the beam and what magnification I needed. It all went very well, and we are sharing our knowledge with Zeiss and will continue to explore this technology. The ability to conduct a remote exam, with currently available technology, is very real and very thorough. I thought that it would be difficult to connect with the patient without being face-to-face in the same room. But after several exams and patient feedback, we can still provide the compassion and caring remotely. What I was failing to realize is that the patient demographics for our San Antonio office is relatively young. They grew up with technology in their hands. Much of their interpersonal relationships are conducted online over their phones. If we remember that there is a difference in providing patient care and caring for our patients, the method of delivery is irrelevant.