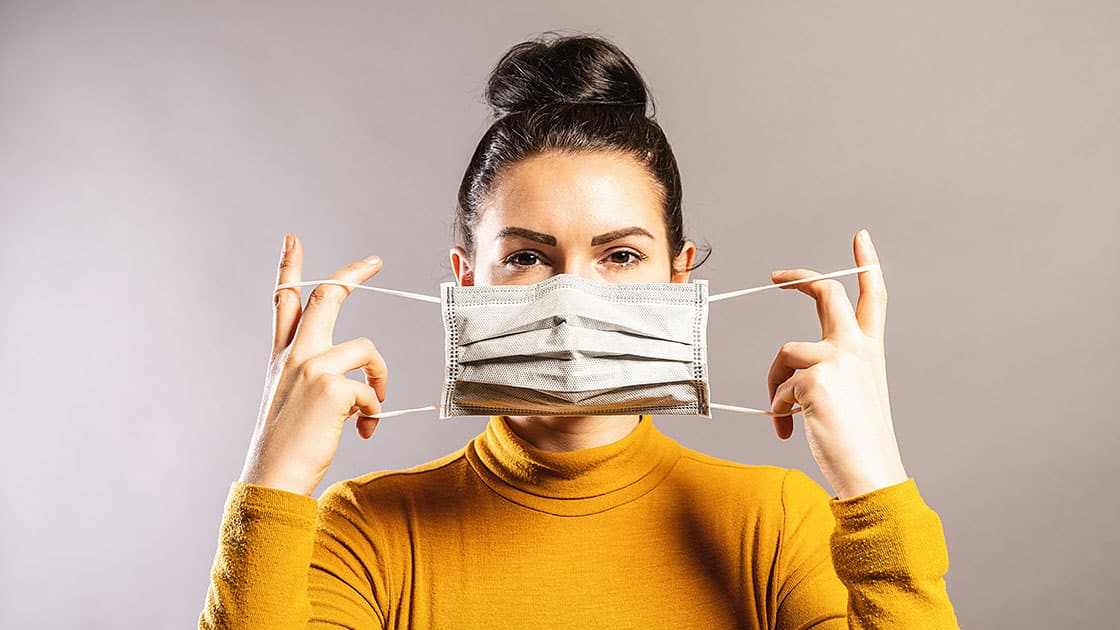 This article was originally published on Review of Optometric Business and reprinted with permission. By TSO Board Member Mark Wright, OD, FCOVD, and Carole Burns, OD, FCOVD
Mask-wearing and social distancing mandates have been getting push-back from some citizens. Here is how to handle a patient who refuses to comply with these new health and safety rules in your office.
Wearing masks in public can be a polarizing issue. With respect to masks, there are three categories of patients entering your office: those who are wearing the wrong type of masks, those who are not wearing a mask and those who are wearing the proper masks. Let's consider how to handle each of these categories.
INFORM PATIENTS WHAT IS EXPECTED BEFORE GETTING TO THE PRACTICE
The starting point occurs before patients even get to the office. Patients should receive from your office information stating your office policy on masks, what are the correct type of masks you accept and what will happen if they show up with either no mask or the wrong type of mask.
Some practices go as far as to create a form that patients must sign that will be entered into the patient record covering the following points:
The patient has read and understood the office policy on masks.
The patient agrees to follow the office policy on masks.
The patient understands and accepts the risks of being inside your practice.
This form should be sent to the patient before the exam. In today's world, this can be a digital form.
As always, any form you have a patient sign must be approved by the practice attorney.
WHAT TYPES OF MASKS ARE PERMITTED IN YOUR PRACTICE?
HERE is a video from a news report covering the recent Duke study of the effectiveness of 14 different types of masks. Editor's note: there is a brief ad at the beginning of the video after which the news report begins.
The Duke study was extremely graphic showing the number of droplets that come out of a person's mouth even in normal conversation and highlighted that neck-gators, fleece masks and N95 masks with a valve may be equal to or even worse than no mask at all.
The key takeaway of the Duke study is that N-95 masks (with no valve) are the best at preventing the spread of droplets coming out of a person's mouth with surgical masks the second best. Are those two masks the rule for your practice?
HOW TO HANDLE THE PERSON WHO SHOWS UP WEARING THE WRONG KIND OF MASK
Have disposable surgical masks available at the entry point to your practice. Use a script like this: "Thank you for wearing a mask. We're asking that you wear this mask (hand them a surgical mask) while in the practice and then you can take this with you when you leave."
If they resist, refer them to the information sent to them before the exam explaining not just the need for a mask, but a need for the correct kind of mask.
HOW TO HANDLE THE PERSON WHO REFUSES TO WEAR A MASK (OR THE CORRECT KIND OF MASK)
Always be polite and do not get into an argument. This is not about an individual's "right" to not wear a mask, this is about keeping other people in the practice safe. "I wear my mask to protect you and you wear your mask to protect me. In a practice, we are going to have many people inside who are from high-risk populations. We must do our best to protect those people."
In the rare case that someone absolutely refuses to wear a mask, then refuse them entry into the practice. This is a hard, but necessary, position to take.
HOW TO HANDLE THE PERSON WEARING THE CORRECT KIND OF MASK
Psychology 101 is: If you want good behavior, then reward good behavior. Thank the person for wearing the correct kind of mask and praise them for their concern for others. Make them feel good about their choice.
GET STAFF ON BOARD
One of your first steps is to get staff on board. Here's a creative video that Raquel Miller, Practice Director, Professional Vision Care, did to make this happen. With a smartphone and apps available today, a video like this is pretty easy to do.
CONCLUSION
Wearing masks – the correct kind of masks – is not optional within a practice, it is necessary. With a little planning, staff education and training, we can do our best to protect our patients, our staff and ourselves.