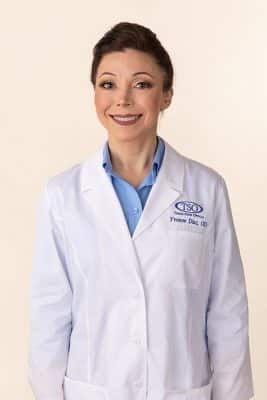 Dr. Yvonne Diaz is the newest independent Doctor of Optometry that we warmly welcome to the TSO Network! Dr. Diaz will be opening her practice in McAllen, Texas.
Dr. Diaz attended the University of Texas – Pan American from 1986-1990 and graduated from the University of Houston- College of Optometry in May 1994. She received the National Hispanic Scholarship, Letter of Clinical Excellence, and made the Dean's List.
Dr. Diaz is licensed by the Texas Optometry Board to examine and treat patients with ocular disease including glaucoma. She has worked for over 22 years in an ophthalmology practice and her specialties include:
Dr. Diaz was born and raised in Edinburg, Texas and graduated from Edinburg High School. She is happily married to Jerry Morales for over five years and has shared with us the many reasons behind why she decided to specialize in the field of optometry.
"I was prescribed glasses when I was in second grade. I remember seeing the leaves on the trees for the first time. In school I enjoyed studying math and science. Solving problems is both a challenge and a rewarding endeavor. My desire is to help people see their very best with glasses and/or contact lenses."