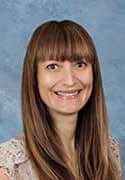 The TSO Network happily welcomes Dr. Shawna Lehmann, a new shareholder doctor opening her location in the Spring Bul Verde area.
Dr. Lehmann graduated from the Southern California College of Optometry in 2001. She is a member of Ocular Nutrition Society Member and a lifetime member of Omega Delta Professional Fraternity.
Dr. Lehmann has a particular interest in nutrition and enjoys educating patients about nutrition and the connection between eye health and their general health.
Dr. Lehmann stated, "I have a heart for patients with diabetes or autoimmune conditions that can be managed or improved with nutritional changes."
While in optometry school, Dr. Lehmann received an NIH grant to research the National Eye Institute at the UHCO campus. While staying in Houston for that summer, Dr. Lehmann was introduced me to the Hill Country.
"I fell in love with the area and, although it took a few years, my husband and I relocated ourselves and our four sons to Bulverde/Spring Branch this past summer. It's wonderful to have our boys grow up next to their cousins and with my parents next door! We look forward to becoming a part of the TSO family as well," said Dr. Shawna Lehmann.