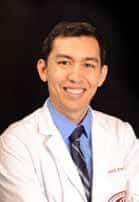 The TSO Network happily welcomes Dr. Joshua Devera as the new owner of Clear Lake TSO.
Dr. Devera received his Bachelor of Arts in Biology and minor in Business Administration from Texas A&M University. His studies continued at the University of Houston College of Optometry where he graduated as a Doctor of Optometry in 2016. Following his studies, he practiced at TSO in Texas City until 2019. Dr. Devera is excited to be opening his TSO office at Clear Lake Marketplace and even more excited to be working with the community. His favorite part of his work is the relationship building.
"People visit this office, trusting me with their eye care needs, and I am not satisfied until those needs are met." – Dr. Devera
Dr. Devera was born in Clovis, New Mexico but came to Texas as fast as he could. He grew up in Friendswood, Texas and now lives nearby in League City with his wife Sydney, daughters Lilliana and Luna (due Feb 2020), and their dog Hera. In his free time, he likes to golf, watch sports, play board games, and spend time in fellowship with members of his church.