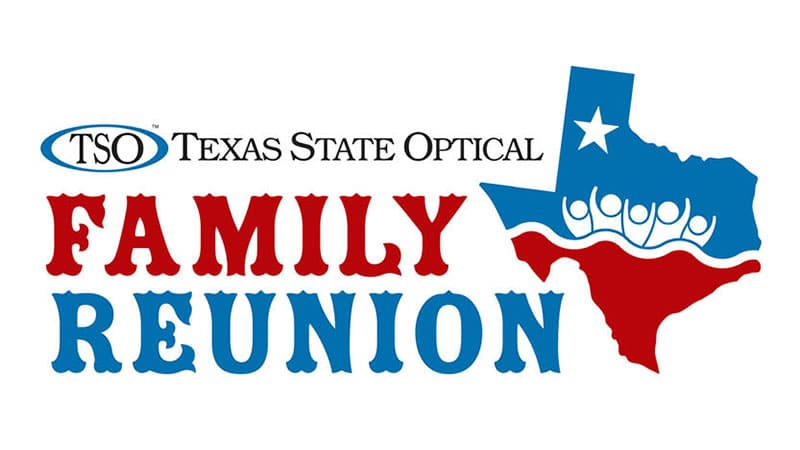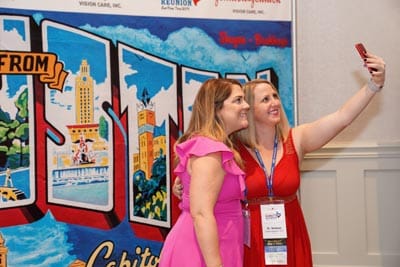 If you missed this year's first Family Reunion Conference, you missed a special treat. Our annual meeting was renamed to recognize the cultural dynamic that makes Texas State Optical different than all other eye care organizations.
When members of Texas State Optical are asked what they value most about belonging to the TSO Network, they say they love the idea that we are one big family. They value the camaraderie with other eye doctors. They like that their staff has a feeling of belonging to something larger than just a practice. They benefit from being able to call on another member to get advice or share experiences. They appreciate that while everyone is different in their opinions and approach to their practice, we all share in a common professional experience and, collectively, define the Texas State Optical brand.
With 81% of the TSO Network's shareholders at the TSO Family Reunion, the conference was the perfect opportunity to reconnect for all in attendance.
Family Reunion started with a bang with the first-ever Family Picnic dinner, which was planned to welcome all Doctors and staff of TSO to attend alongside their families.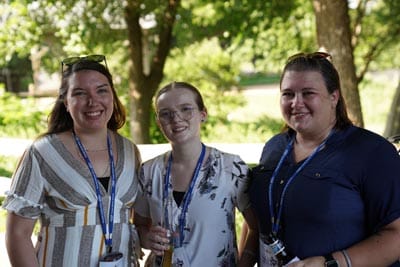 Attendees engaged in a hearty Texas BBQ dinner, played yard games, and also got to straddle the Lost Pines resident longhorns, T-Bone and Ribeye.
On Monday morning, the Doctors and Staff were combined for lectures and started their morning with an opportunity to win cash prizes from GPN. A total of $2,500 cash was gifted to attendees as they learned how to utilize the business metrics in the EDGEPro dashboard tell the real financial story of a practice. Attendees participated in an interactive workshop focused on finding low hanging fruit to generate new revenue, ask questions to GPN directly, and the TSO practice consultants.
Day two of the conference continued with Drs. Shawn Prapta, Cameron Smith, and Chris Warford as they delivered a captivating lecture on "Growing Your Three Million Dollar Practice with Patient Relations and Technology."The doctor-led course unpacked a variety of topics to explain how technology can assist in coordinating the efforts by office staff into a comprehensive package for success.
The doctors covered topics ranging from investing in your team and community, utilizing high-tech examination equipment, and setting measurable practice goals that evolve the practice. All who attended their course left with best practices that could be implemented in offices immediately.
Following their presentations, a panel discussion led by Dr. Benny Peña and included Drs. Blount, Prapta, Smith, Kimball, Samir Patel, and Warford allowed the doctors to delve in-depth on their best practices. Thank you to shareholders Drs. Kimball, Blount, and Samir Patel for participating in the panel and Drs. Prapta, Smith, and Warford for delivering their presentations.
In the afternoon, Doctors and staff were able to choose from courses led by Bausch + Lomb, ClearVision, Care Credit, and PCS. Bausch +Lomb hosted a Wetlab, an informative lecture and hands-on presentation led by renowned expert Dr. Maria Walker. Attendees discovered the features and benefits of the ZenlensTM family of scleral lenses, which included hands-on learning about fitting, handling the lens, and troubleshooting the ZenlensTM scleral lens.
ClearVision led a refreshing course on frame board and inventory management. David Friedfeld discussed how a well-managed frame board is at the heart of every successful optical dispensary. He also discussed the importance of taking initial extra time to review and analyze frame boards carefully. The course guided staff members through frame board management so offices can improve their bottom line while the everyday business is easier to manage.
CareCredit presented their application tools and guided attendees on how to introduce CareCredit to patients. Included in the course were best practices to save time and effort with the CareCredit application tools, including CareCredit direct, and QR codes.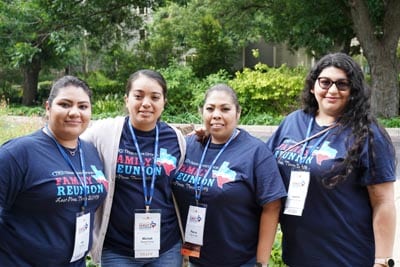 Practice Compliance Solutions covered the four major compliance areas that impact every health care provider, which include HIPAA, Human Resources, and hazard OSHA. The lecture also provided insight into the future and changes that will help shape these areas.
On Tuesday morning, EyeCarePro discussed the TSO.com website and demonstrated what patients are looking for, how they search for vision care, and what offices can do to see more new patients. Tools discussed was Google My Business, what's new on website designs, and how to measure marketing results were discussed.
Dr. John Rumpakis led the Doctors of TSO in his discussion on the "Independent Practice in the Era of Health Care Reform." Dr. Rumpakis addressed the ethical and legal issues surrounding clinical practices as the healthcare market expands and transforms into a consumer-driven environment. Attendees learned how to manage the top medical presentations most optometrists encounter daily while minimizing risk from a compliance and coding perspective.
Mark Hinton led the staff development lecture. His course focused on a range of topics that included retinal screening communication development, the fundamentals of the patient handoff, overcoming the patient walk-out, and more.
Dr. Peter Pham, a Professional Responsibility Course led by RSO, and Zeiss Vision filled the Tuesday afternoon schedule. Zeiss Vision held an ZEISS i. Terminal Mobile training to assist offices in comprehending how the product can help differentiate TSO practices from the competitors, reduce office redos, and increase multiple pairs.
The conference closed with a private reception under one of Lost Pines' most giant oak trees.