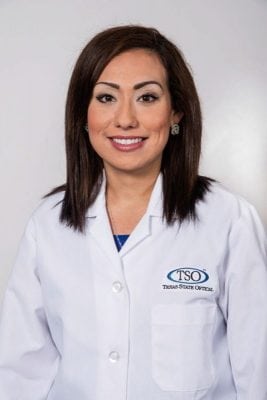 Mayra Tovias OD
Santa Fe TX
Texas State Optical
13135 Highway 6
Santa Fe, TX 77510
(409) 932-2062
Vision Care
Astigmatism, Cataracts, Contact Lens, Diabetic Care, Dry Eye, Eyeglasses, Geriatric Care, Glaucoma Care, Lasik, Lazy Eye (Amblyopia), Macular Degeneration, Myopia (Nearsightedness), Pediatric Care, Presbyopia (Blurry far or close)
Insurance Accepted
Advantica, Aetna, Always Care/First Look Vision, Avesis, Beech Street, Block Medicaid and CHIPS, Blue Cross Blue Shield, Boon Chapman, Care Improvement Plus, Cigna, Coast to Coast, CompBenefits, Davis Vision, EyeMed, Humana, Medicare, Multiplan, National Vision Administrators-NVA, Opticare, PHCS, Principal Financial Group, Spectera-OptumHealth, Superior Vision, UMR, United Healthcare, Vision Service Plan-VSP
Don't see your insurance? Call us (409) 932-2062
Fashion Brands
Candies, Coach, Ernest Hemingway, Europa, Flexon, Flexon Select, Gucci, Jalapenos, Jubilee, Luxottica, Ray Ban Glasses, Ray Ban Junior, Stepper, TuraFlex, Van Heusen
Languages Spoken
English, Spanish
Provider Statement
Mayra Tovias, O.D. grew up in the small town of Wharton, Texas, located southwest of Houston. She graduated magna cum laude from the University of Texas in San Antonio with a Bachelor of Science degree in Biology and a minor in Chemistry. She earned her Doctor of Optometry degree at the University of Houston College of Optometry. Dr. Tovias completed externship training at the Good Neighbor Clinic, which serves the underprivileged populations of inner Houston. While here, she had the privilege to work with specialty contact lens fits and alongside several retinal specialists affiliated with Retina Consultants of Houston. During her time there, she also took part of See to Succeed, a program that is partnered between the Houston Department of Health and Human Services and the University of Houston, San Jacinto College, Kids Vision For Life, and the Berkley Eye Center to provide free vision exams and eyewear to children and youth in need. She also trained at Coastal Eye Associates with some of the premier doctors in refractive surgery and surgical post-op management. While at Coastal, she gained valuable clinical training in cataract & LASIK surgery co-management and corneal, retinal and glaucoma conditions. She also enjoys giving comprehensive eye which include the diagnosis and treatment of Glaucoma, Cataracts, Diabetic Retinopathy, Amblyopia(lazy eye/crossed eye), Macular Degeneration, LASIK, Myopia(nearsighted), Hyperopia(Farsighted), and Presbyopia(Trouble focusing up close), Astigmatism and contact lens examinations.
Dr. Tovias is fluent in Spanish. She is married to her wonderful husband, Ozmel, of 10+ years. They have two sons, Sebastian and Samuel who keep them busy. In her spare time, if any, Dr. Tovias enjoys family activities, traveling, and cooking.
Dr. Tovias is enthusiastic to be able to serve the visual needs of the community of Santa Fe and its surroundings.
Education
2008: Bachelor of Science in Biology with a minor in Chemistry from the University of Texas San Antonio 2015: Doctor of Optometry degree from University of Houston College of Optometry
Please CALL US for appointment.
Due to COVID-19 our scheduling times have changed. We will find a time that works for you.

Our eye care office is conveniently located on 13135 Highway 6 in Santa Fe.
Virtual Office Tour






Office hours
Mon:
Closed
Tue:
08:00 am to 05:30 pm
Wed:
08:00 am to 05:30 pm
Thu:
08:00 am to 05:30 pm
Fri:
08:00 am to 05:30 pm
Sat:
08:00 am to 12:00 pm
Sun:
Closed