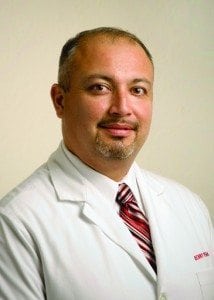 Benny Peña OD
Fredericksburg TX
Texas State Optical
1021 South Hwy 16
Fredericksburg, TX 78624
(830) 988-9005
Vision Care
Astigmatism, Cataracts, Contact Lens, Diabetic Care, Dry Eye, Eyeglasses, Geriatric Care, Glaucoma Care
Insurance Accepted
Aetna, Avesis, Blue Cross Blue Shield, Boon Chapman, EyeMed, Humana, MES Vision, Medicare, Spectera-OptumHealth, Superior Vision, TML MultiState, United Healthcare, Vision Care Plan-VCP or Compbenefits, Vision Service Plan-VSP
Don't see your insurance? Call us (830) 988-9005
Fashion Brands
Chesterfield, Coach, Converse, Costa, DKNY, Flexon, Kate Spade, Laura Ashley, Luxottica, Modo, Polo, Ray Ban Glasses, Ray Ban Junior, Safilo Elasta, Safilo Emozioni, Safilo Team, Silhouette, TuraFlex, Vera Bradley, Vera Wang, Versace, Vogue
Languages Spoken
English
Provider Statement
Dr. Benny Peña was born and raised in Brownsville, Texas. After high school Dr. Peña enlisted in the United States Marine Corps and is a decorated veteran of Operation Desert Shield/Desert Storm. This is when he first became interested in optometry. Upon leaving the Marine Corps, he managed a retail optical store in Bryan, Texas, and played bass guitar with the Roger Creager Band.

Dr. Benny Peña sees patients at TSO Kerrville and also at Texas State Optical in Fredericksburg. His wife, Stephanie has been with the Family Sports Center for over 10 years. Their three children, Harleigh, Nicholas, and Nathan attend Notre Dame Catholic School. Doctor Peña's interests include playing music, traveling, coaching sports, & collecting classic cars

Dr. Peña and his family have lived in Kerrville since 1997.
Education
Bachelor of Science - Schreiner University (Kerrville, Texas) --- Doctor of Optometry - University of Houston College of Optometry
Patient Reviews
Conveniently located on 1021 S State Highway 16 in Fredericksburg, Texas State Optical's office is open 5 days a week.
Virtual Office Tour




Office hours
Mon:
09:00 am to 05:00 pm
Tue:
09:00 am to 05:00 pm
Wed:
09:00 am to 05:00 pm
Thu:
09:00 am to 05:00 pm
Fri:
09:00 am to 05:00 pm
Sat:
Closed
Sun:
Closed